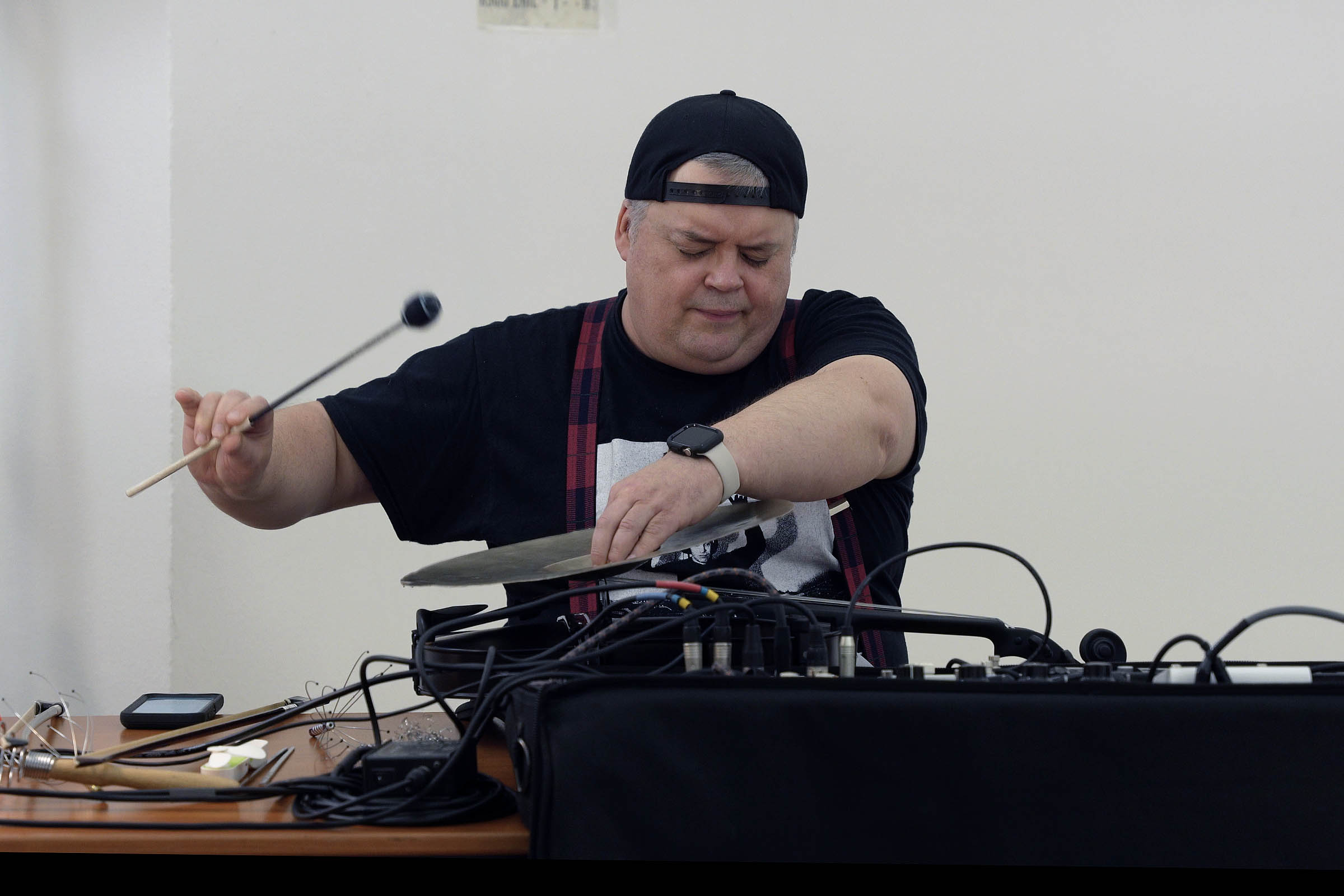 AHAD AKA ZSOLT SŐRÉS

— Nemo Point Soundmap for Terrestrial Melanoheliophobics, Part 2

September 26 — September 27, 2023
Performance
Presented by Yellow Solo – as part of the programme "Performative Archive: Balatonboglár 1970-73"
Blue Chapel, Balatonboglár, Hungary
(The former Chapel Studio by György Galántai)
On two dates:
September 26 and 27, Tuesday and Wednesday
Door opens: 6 pm
Starts: 7 pm
Free admission
"Nemo Point Soundmap for Terrestrial Melanoheliophobics", composed in 2021, was a synthesizing, improvisationally structured work by Ahad aka Zsolt Sőrés, in which the artist wanted to summarize his experimental musical performance practices and the possibilities of instrument-based (5 string viola) electroacoustic noise music as a solo form. 
The second part of the work premiered in September 2023 as part of Hajnal Németh's Freedom Trap project, takes the solo form even further. A broader palette of effects and a concentrated use of electronics add new layers to the improvisational process. It is about process music, about capturing transitions, about the "flux" nature of sounds, about experiencing the auditory emanation, for which the Blue Chapel in Balatonboglár, once a sacred space, is an excellent medium.
The performance is part of the project Freedom Trap by Hajnal Németh and part of the programme Performative Archive: Balatonboglár 1970-73, curated by Gabriella Schuller and László Százados. The series evokes and thematizes the neo-avant-garde and fluxus artist György Galántai's Chapel Studio in Balatonboglár from 50 years ago. The exhibition space, which operated in the early 1970s, was a forum for exemplary self-organising, progressive artistic initiative, independent of official cultural policy, a venue mainly featuring Hungarian avant-garde artists considered politically undesirable, as well as foreign guest artists. After four years of activity, including 35 exhibitions, concerts, poetry recitals, theatrical performances, and film screenings, under constant surveillance by secret agents and harassment by the authorities, the place was finally walled up by the regime.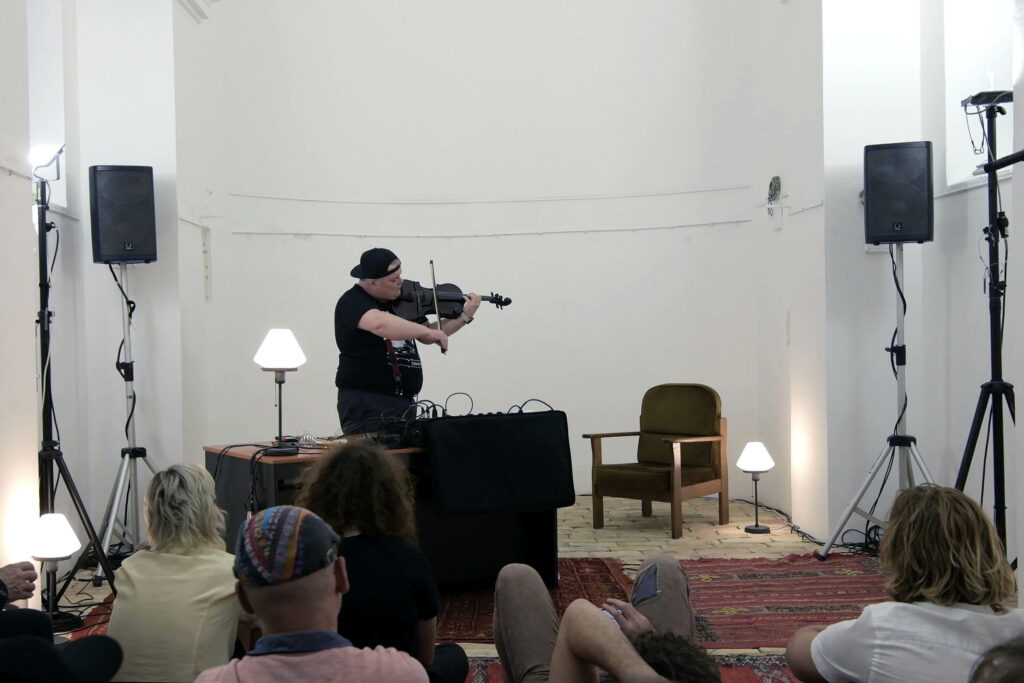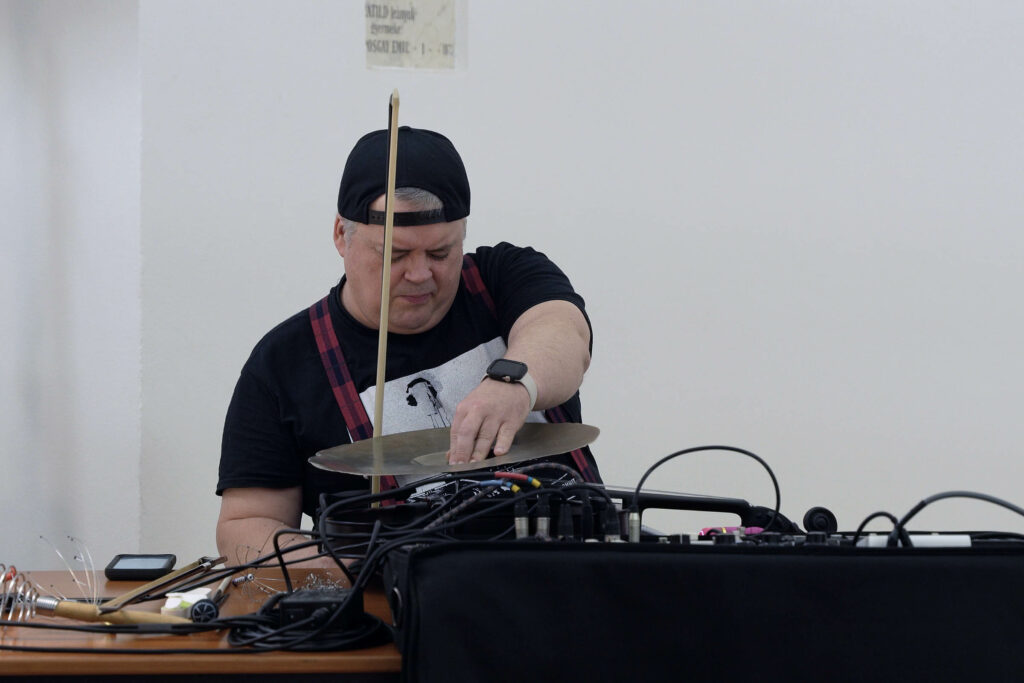 Zsolt Sőrés (b.1969) is one of the key figure of the Hungarian electro-acoustic, improvised music scene who has been active for 30 years. His music explores the possibilities of conceptual-meta-musical free improvisation: it is music enhanced to extremity, unearthed through the liberation of the forces of sound modeling alternative sonic realities, and the creation of resonant-dynamic live music spaces, by the techniques of "inner virtuosity" and "form shredding", and the formation of a gently-layered meta-repertoire. His current projects: Inconsolable Ghost (with Anthea Caddy, Hilary Jeffery, Gideon Kiers, Miodrag Gladović), duo formations with Christian Kobi, Anla Courtis (from Reynols), Rudi Fischerlehner, Franz Hautzinger, André Vida, collaborations with Nicola L. Hein, Simon Rose, Olaf Rupp, Ute Wassermann, the krautrock band faUSt etc. Zsolt Sőrés is also a 2021 fellow of the DAAD Artist-in-Berlin-Program.
FURTHER INFORMATION ABOUT THE ARTIST
Special thanks to: Artpool Art Research Center
Partner in realisation: Babel Camp
Commissioned by: Veszprém-Balaton 2023 – European Capital of Culture