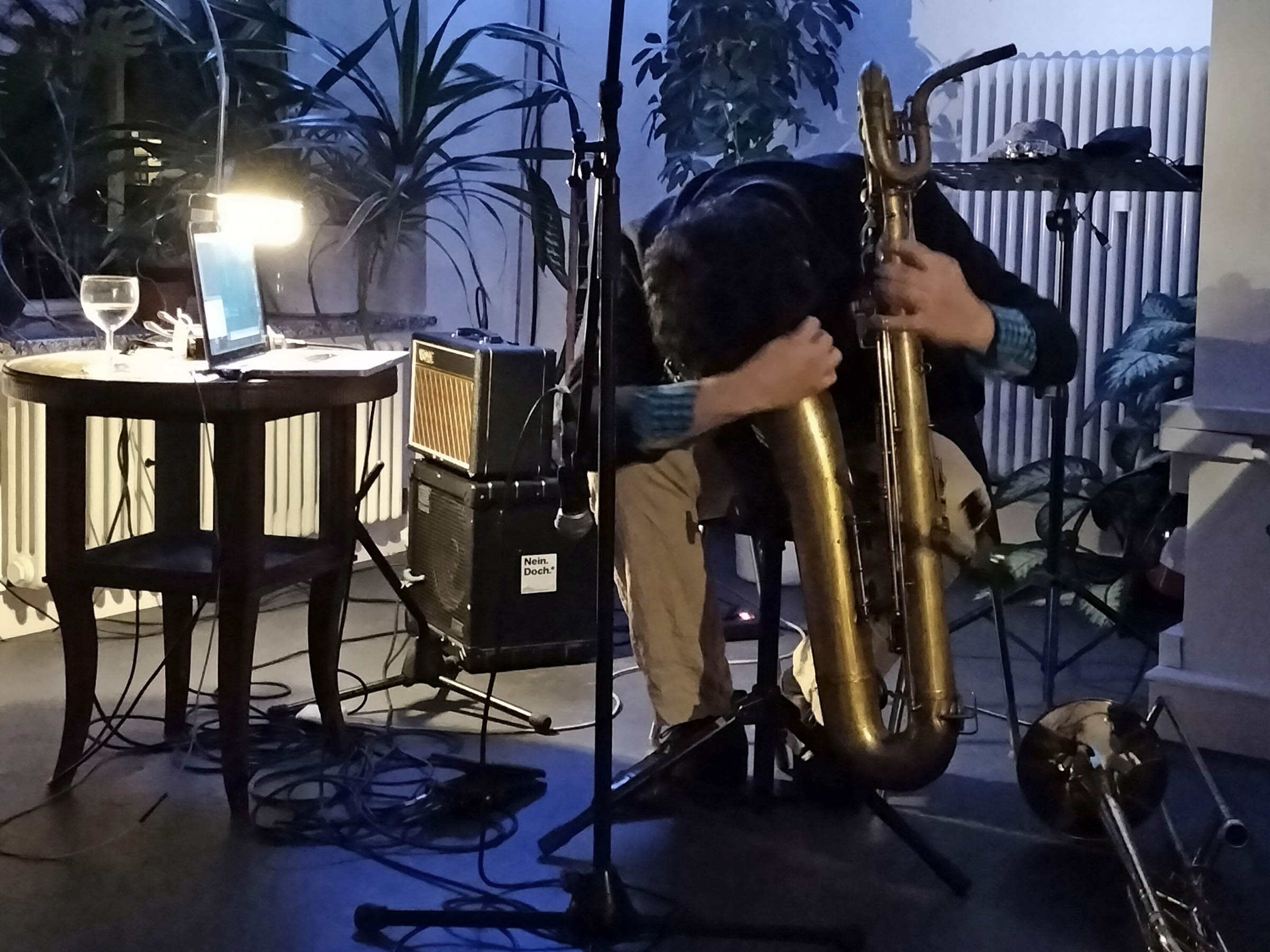 André Vida - Zsolt Sőrés - Hilary Jeffery

— Breathless

November 6 — November 6, 2021
MUSIC WITHOUT MUSIC #4
Performance and installation, November 6, Saturday, 8 pm
"I am developing a new form of breathless saxophone music transmitted via transparent amplifying horns as a performed installation for intimate one-on-one experiences. I am interested in the idea of creating a ritual to reanimate the experiencers awareness of their bodies as a listening organ." (André Vida)
The performance with Zsolt Sőrés and Hilary Jeffery is the first public presentation of Vida's new concept in the sense that he extends the "breathless saxophone" format, thus providing insight, more specifically listening into the project's development process.
About the artists: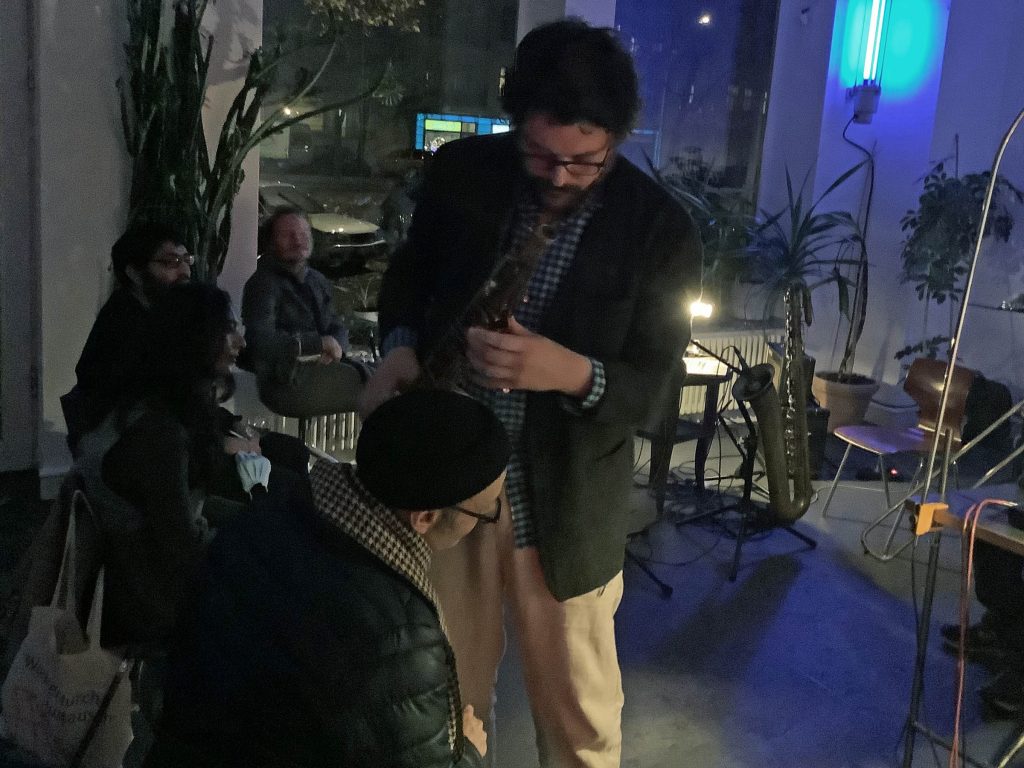 André Vida (b.1974) is a Hungarian American saxophonist, composer, and lyricist living in Berlin. Vida has performed widely as a soloist and has collaborated with a diverse group of artists including Anthony Braxton, Kevin Blechdom, Tarek Atoui, Hildur Gudnadottir, Max Loderbauer, Rashad Becker, Nico Dockx, and Jamie Lidell. He has worked closely with Anri Sala on performances at the Serpentine Gallery in London, the Roman Amphitheatre in Arles (produced by the LUMA foundation), Frieze London and the Havanna Biennale. Vida has been commissioned by Hyper! at The Deichtorhallen, the Tri-Centric Foundation, Global Art Forum 7 and 10, the 8th Berlin Biennale, Eyebeam, and the European Sax Ensemble to create new performance pieces focused on the medium and materiality of scoring. These works include explorations of interactivity, animation, lighting, and clothing design as elements of a compositional system based on the physicality of performance. A three-volume set of his work from 1995 – 2011 was released on PAN, his piece for 41 saxophones, Minor Differences, was released on Entr'acte, and he has been featured in The Wire, TANK, Monopol, and Electronic Beat
FURTHER INFORMATION ABOUT THE ARTIST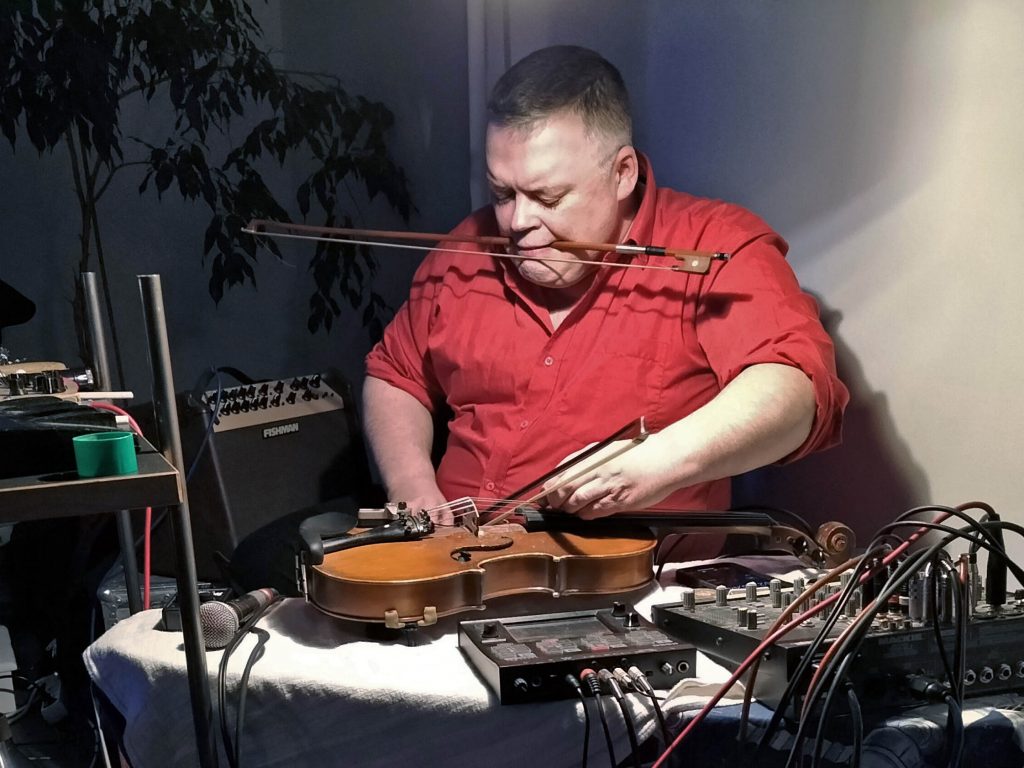 Zsolt Sőrés (b.1969) is one of the key figure of the Hungarian electro-acoustic, improvised music scene who has been active for 30 years. His music explores the possibilities of conceptual-meta-musical free improvisation: it is music enhanced to extremity, unearthed through the liberation of the forces of sound modeling alternative sonic realities, and the creation of resonant-dynamic live music spaces, by the techniques of "inner virtuosity" and "form shredding", and the formation of a gently-layered meta-repertoire. His current projects: Inconsolable Ghost (with Anthea Caddy, Hilary Jeffery, Gideon Kiers, Miodrag Gladović), duo formations with Christian Kobi, Anla Courtis (from Reynols), Rudi Fischerlehner, Franz Hautzinger, André Vida, collaborations with Nicola L. Hein, Simon Rose, Olaf Rupp, Ute Wassermann, the krautrock band faUSt etc. Zsolt Sőrés is also a 2021 fellow of the DAAD Artist-in-Berlin-Program.
FURTHER INFORMATION ABOUT THE ARTIST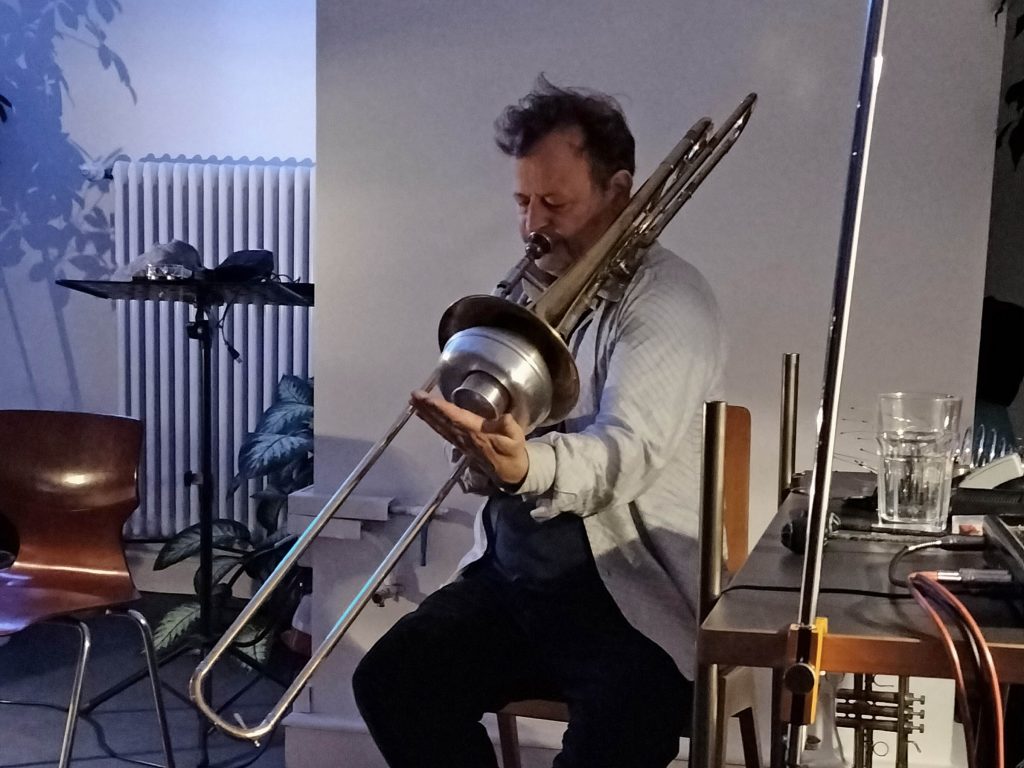 Hilary Jeffery (b. 1971) is a British musician born in Surbiton. Following studies at Dartington College of Arts, University of York and with James Fulkerson at the European Dance Development Centre in Arnhem, Hilary embarked on a colourful musical career playing throughout the world in many settings including theatres, jazz clubs, cathedrals, night clubs, festivals, dance studios, bars, cinemas, galleries, streets, forests and mountains. As well as composing Hilary plays trumpet, trombone, tuba, piano, electronics, and sometimes sings. He is currently based in Berlin where he plays in many groups including Zinc & Copper, Minor Tom, Tonaliens, Inconsolable Ghost, Mullet and Mouse On Mars Dimensional People Ensemble. He has composed music for the David Kweksilber Big Band (Amsterdam), Slagwerk Den Haag, the Acousmonium (GRM Paris), Zagreb Experimental Ensemble and for his own ensembles. The sense of silent space he experienced during a journey to the Sahara Desert in 1990 is a central and sustaining influence on his work
FURTHER INFORMATION ABOUT THE ARTIST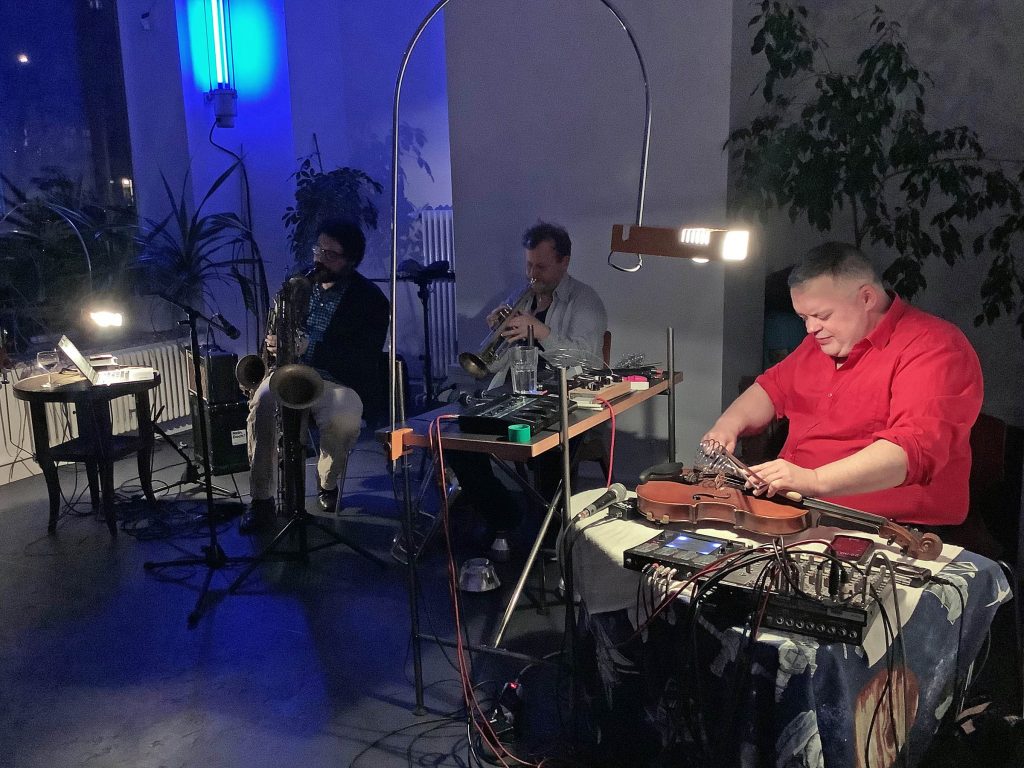 Supported by:

The project is the fourth part of the series entitled MUSIC WITHOUT MUSIC presented by Yellow Solo in 2021 and 2022 with the participation of the following artists: Annika Kahrs, Dani Gal, Anri Sala, André Vida, Arnold Dreyblatt, Hassan Khan, Maya Schweizer, Song-Ming Ang, Katarina Sevic, Ari Benjamin Meyers and Olaf Nicolai. We will continuously provide information on the consecutive solos.
MUSIC WITHOUT MUSIC in 2021 is supported by: Bezirksamt Pankow von Berlin, Amt für Weiterbildung und Kultur, Fachbereich Kunst und Kultur